Reminder: Apply to a High School Specialty Program by Tuesday, November 30 at 5:00 p.m.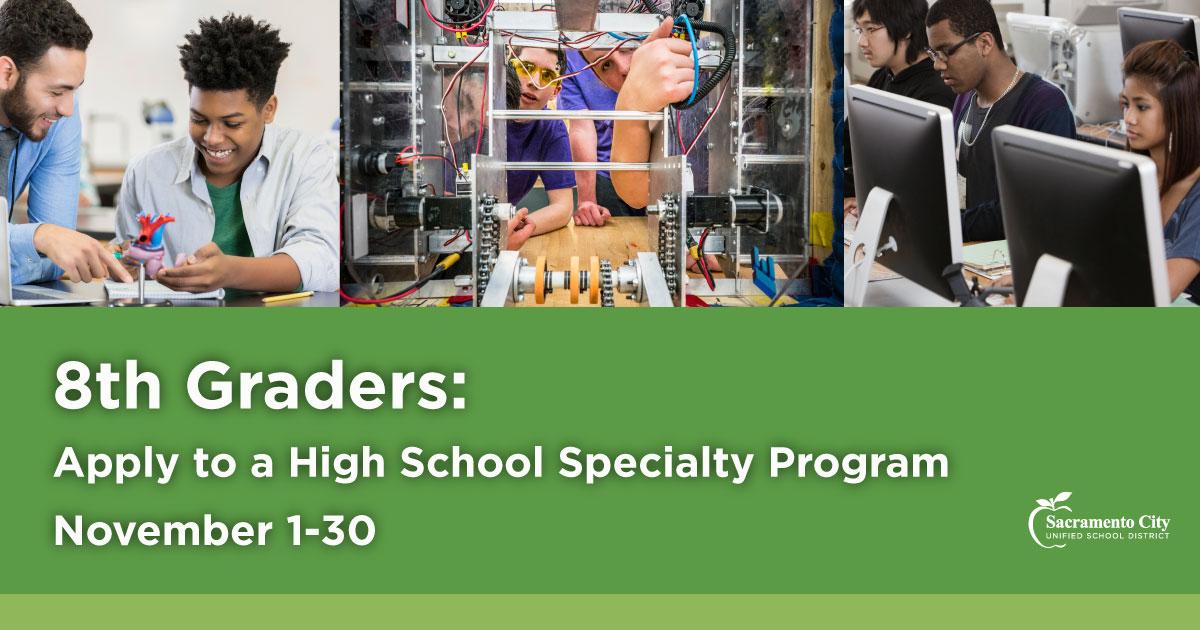 Dear Sacramento City Unified Family,
Sac City Unified is focused on ensuring that every 8th grade student has an opportunity to apply to the high school program they believe will provide them with meaningful, engaging, and rigorous learning experiences. In addition to a traditional high school program, Sac City Unified offers 30 different specialty high school programs of choice designed to satisfy various student interests and learning styles.
Students have until Tuesday, November 30 at 5:00 p.m. to apply to a first and second choice program at http://www.scusd.edu/hsapplication.
Two specialty programs – C.K. McClatchy HISP and John F. Kennedy PACE – also require students to write an essay. Applicants will receive an email invitation to HISP and PACE essay sessions once they have successfully submitted their online application before the November 30 deadline. Essay sessions will be held in December.
When eligibility requirements are met, applications will either be accepted or moved on to a lottery system. A lottery will be implemented when eligible applications exceed the grade capacity at the requested specialty program. If your student isn't selected during this step, they will be placed on a waiting list for their first choice only.
The Sac City Unified Enrollment Center will mail out notification letters to applicants at the end of January 2022.
Visit our High School Specialty Program webpage for more information about our programs and the application process.