Learn About Vaccines to Help Your Preteen Stay Healthy Through Adolescence and Beyond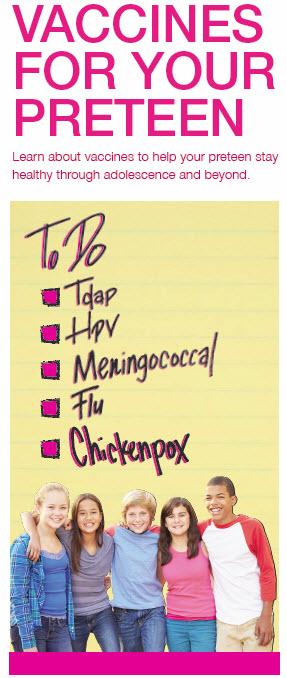 Preteen Vaccine Week (PVW) is coming up next week from March 1-7. The goals of PVW are to distribute information and materials through multiple avenues such as schools, providers and the media to promote the preteen doctor visit and to raise awareness about routinely recommended immunizations for preteens: Tdap, HPV, meningococcal and flu vaccines.
Immunizing your child is one way to ensure they are protected from dangerous diseases now and for the years ahead.
The federal Advisory Committee on Immunization Practices (ACIP) currently recommends that 11 and 12-year-olds receive Tdap, meningococcal and seasonal flu vaccines.
Health Officials worry that California is due for another whooping cough epidemic. A Tdap booster shot will protect your child against the ongoing threat of whooping cough and help to meet the 7th-grade immunization requirement for school entry; two doses of chickenpox vaccine are now also required. If your preteen has not yet received these immunizations, contact your doctor or local health department.
You can also visit our immunizations page for additional information.