Holiday Guidance for Stopping the Spread of COVID-19
Winter Break is December 21 through January 1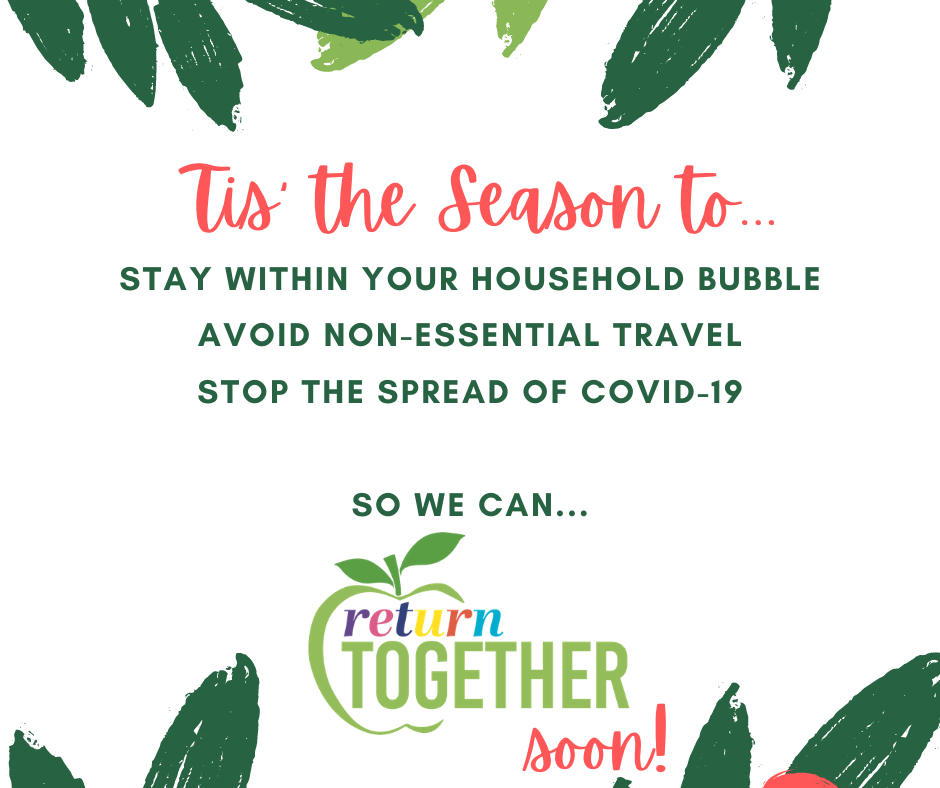 Read this message in Spanish, Chinese, Vietnamese, Hmong
Sacramento City Unified School District's winter break is December 21 through January 1. During this time, schools and district offices will be closed. Please read this important guidance as we adjourn for winter break:
On December 10, 2020, a regional Stay-at-Home Order was issued for the Sacramento region due to the alarming spread of COVID-19 and its impact to our hospitals. We understand this Stay-at-Home Order may greatly impact holiday traditions. However, we all must do our part to stop the spread of COVID-19.
Please stay home as much as possible and do not gather with individuals outside of your household. Please limit any non-essential travel. To keep yourself and loved ones safe follow the 3 C's - Avoid Closed Spaces, Crowds and Close Contacts.
Winter holiday celebrations typically include gatherings of families and friends, crowded parties, and travel. The gatherings could become "super-spreader events" that could put your loved ones and family members at increased risk for COVID-19.
Ways to Celebrate Safely
Please view this important information to help navigate difficult conversations about gathering and to learn safe celebration tips from the California Department of Public Health (CDPH). They include:
Say "no" to anything that could increase risk for you or the people you care about.
Offer alternatives: Ask if there's another way to connect with family. Acknowledge you want to see them and find a different way to share the experience.
Drop off holiday meals for older loved ones and those with medical conditions, so they can stay home.
Be honest: Remind people that you care about them and need to take precautions this year for everyone's health
We urge our community to strictly adhere to the Stay-at-Home Order.
However, if you are in a situation with others outside your immediate household, please follow these tips for the safety of yourself and others:
Wear a mask when you leave home or are around people who do not live with you.
Keep your distance – especially from older family members and those with chronic health conditions.
Do not gather indoors with other households.
Don't share utensils or drinks with anyone.
Wash your hands often with soap and water for at least 20 seconds or use hand sanitizer. Avoid touching your eyes, nose, and mouth.
Stay home if you are sick.
Avoid Holiday travel
Traveling to see friends and family during the holiday could increase your risk of infection and spread COVID-19 in your community. Traveling increases the chance of getting and spreading COVID-19. Staying home is the best way to protect yourself and others.
Californians stay home or in their region and avoid non-essential travel.
Anyone arriving into California should voluntarily self-quarantine for 14 days.
For complete details and requirements, read CDPH's Travel Advisory.
Following public health guidance, it is recommended that everyone who has gathered with individuals outside of your immediate household or have traveled outside of the local area, practice self-quarantine for 14 days.
By staying home after these events, we will limit the spread of COVID-19 in our area and our district.
May you all have a safe winter break.