Free lunch meals for kids during winter break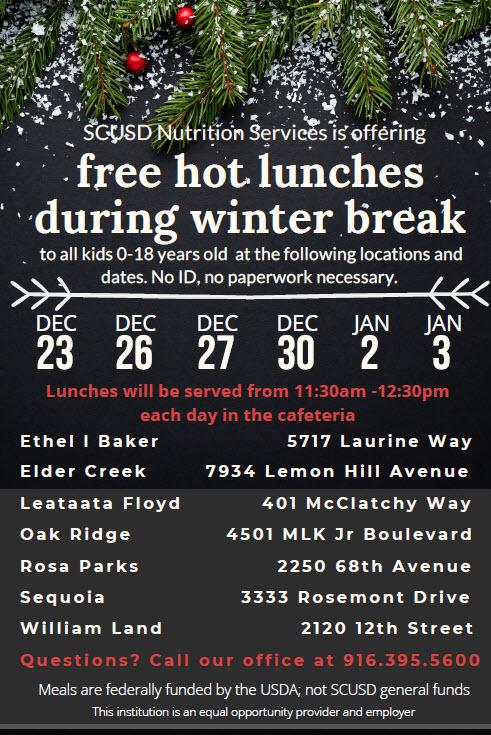 During the winter break seven of our schools will have their cafeterias open during the lunch hour to offer FREE federally-funded meals to children and teens in need of a warm meal. Kids do not need to be enrolled in any programs to receive the free meals. The district will be offering the FREE lunch meals for ALL kids during winter break on the following dates:
• Monday, December 23rd
• Thursday, December 26th
• Friday, December 27th
• Monday, December 30th
• Thursday, January 2nd
• Friday, January 3rd
The lunch meals will be served from 11:30 a.m. to 12:30 p.m. at the following school sites: Ethel I. Baker Elementary, Elder Creek Elementary, Leataata Floyd Elementary, Oak Ridge Elementary, Rosa Parks Elementary, Sequoia Elementary, and William Land Elementary.
During the school year, SCUSD's Nutrition Services Department serves more than 45,000 meals a day in school cafeterias throughout the city. About two-thirds of SCUSD's 44,000 students qualify for a free-or-reduced-price meal through the federal school lunch program. The winter meals program ensures these children do not go hungry over the break.
The free winter meals program is funded by the United States Department of Agriculture (USDA) and not SCUSD general funds.
Please see the Winter Meals flyers in English, Spanish, Chinese, Hmong, Russian, and Vietnamese.
For more information or questions, please call (916) 395-5600.
Enjoy the Winter Break and Happy Holidays!