End-of-Year Message from Sac City Unified Superintendent Jorge Aguilar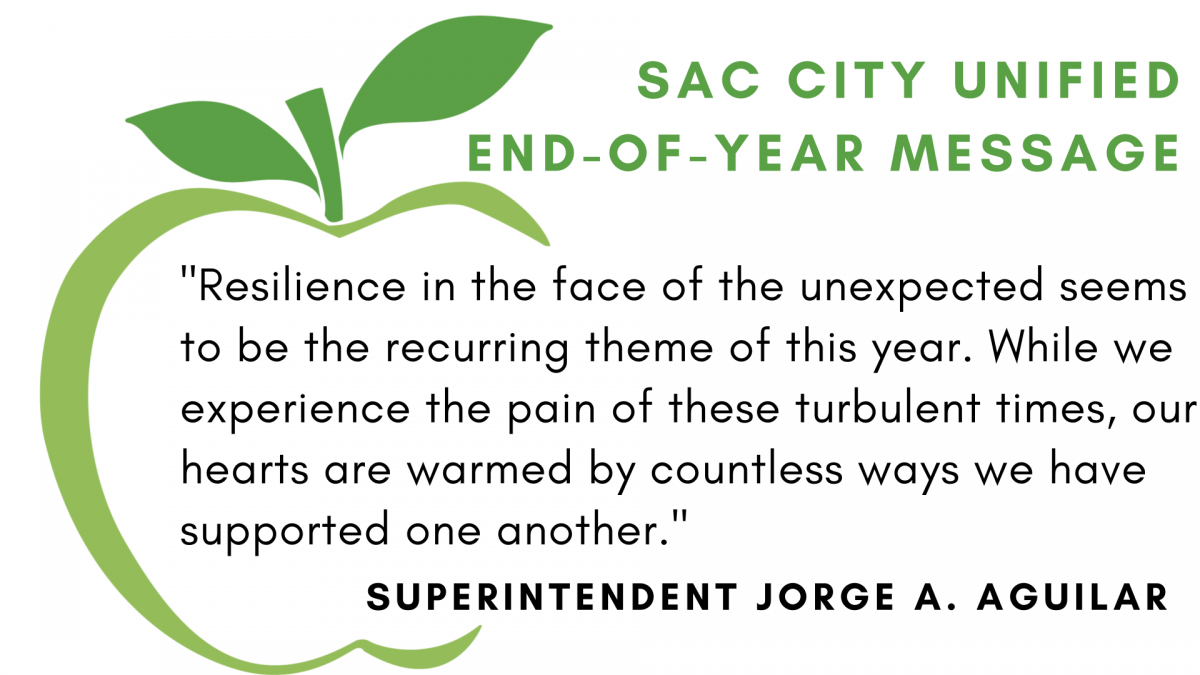 Dear Sac City Unified Community,
The 2019-20 academic year was quite literally like none other. It has been difficult on our students, our teachers, our staff, and our community. This year has tested all of us to the core.
On top of closing out a very difficult year due to COVID-19, our awareness about the need to end systemic racism and violence has been heightened, as we stand with our community whose pain and anger have been rightly brought to the forefront by the senseless murder of George Floyd.
I am proud of our community's strength, and proud of the staff and educators at this district who are willing to have hard conversations and to take action to address racism. This action means all of us must look in the mirror and take an honest stock of our own role, including implicit and explicit biases, and examples of institutional racism. We must continue to stay focused on the vision of equity, access, and social justice for all.
Despite our mid-semester shift to distance learning, our mission to meet all of our students' academic, social and emotional needs did not change. This mission remained squarely in our minds as we reacted to the school closure orders and addressed challenges resulting from the pandemic. Our team quickly mobilized to provide our students with millions of meals, computers, internet access, social and emotional support, and check-ins on well-being. We began a formal distance learning program on April 13, a month after our schools closed and in lock-step with other districts in the Sacramento region. Our teachers, whose classrooms and plans were upended, began providing lessons remotely using phones and computers, demonstrating their resilience, innovation and creativity to connect with students. I cannot thank our educators enough for their flexibility, hard work, and dedication to our students.
Distance learning does not equally replace your child's experience in the classroom – no one would suggest otherwise. I share in the pain, frustration, and even anger that many have expressed about our current efforts. I wish our students could have finished this academic year back in our classrooms. I remain deeply concerned about students' loss of learning in districts throughout the country during this challenging time. Here in Sac City Unified, we want students to remain engaged with their learning throughout the summer. We are asking all returning students to keep their district-issued computers over the summer so they can continue to access resources and support provided by Sac City Unified.
I also would like to again congratulate the graduating senior class of 2020. I am saddened that our seniors were not able to experience many of the in-person activities typically associated with graduation, but I am heartened by the love and pride for our graduating students that was shared during our virtual graduation ceremonies. Our graduates themselves should be proud of their accomplishments and their historic navigation of unexpected circumstances.
Resilience in the face of the unexpected seems to be the recurring theme of this year. While we experience the pain of these turbulent times, our hearts are warmed by countless ways we have supported one another. We've acknowledged mistakes and the need to take action to address educational inequities. We've seen moments of learning and growth.
We know that the next school year will also look different, and could present even greater challenges. We face challenging budget issues and our district will need to make some tough decisions in the upcoming year. The anticipated modifications we must make to our classrooms and practices to protect everyone's health will also create unknown additional costs.
Our district, as all districts throughout the Sacramento region, are working with Sacramento County Office of Education, the California Department of Education, the California Department of Public Health, and the Sacramento County Public Health department to develop our plans for what school will look like in the fall. Through this process, we will reach out to you with surveys to get your input on distance learning, which will help inform our plans for the next school year.
We look forward to seeing our students when school resumes. We've learned a lot this year that we will apply to make our next school year even more productive. Most important, we recognize that it takes our community working together, Sac City Strong, to push us forward.
Sincerely,
Jorge A. Aguilar, Superintendent
Sacramento City Unified School District