Celebrations During COVID-19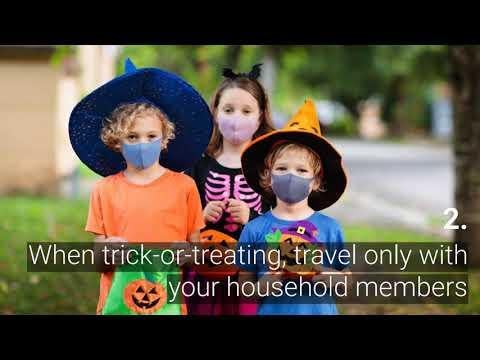 We know that many members of our community celebrate fall holidays. With that in mind, we ask that families be safe and take steps to reduce the spread of COVID-19.
Wear a face covering. Make it fun! You can decorate your child's mask.
Keep physical distancing when participating in seasonal activities. Make sure to maintain 6 feet of physical distance from others, and only travel with your household members.
Wash your hands often or use hand sanitizer. Make sure to wait until your hands are clean before eating and opening your candy.
If you participate in activities such as trick-or-treating, plan ahead. Set up a table outside to hand out candy using candy-grabbers or tongs; make treat bags and hang them from streamers outside, or place a bowl of candy and bottle of hand sanitizer at the end of the driveway/walkway.
Celebrate Creatively. Host a virtual watch party with a movie night with household members either at home or drive-in.
No-No's:
If you participate in seasonal activities, don't have trick-or-treaters walk up to your door to hand out candy.
Gatherings with individuals outside of your household are not allowed in Sacramento County while the county has been designated in a restrictive County risk level Tier by the state.
If you disregard – at the very least – keep gatherings small, outdoors, wear face coverings, and with only those in your "regular bubble."
As always, please follow the usual precautions:
Inspect – All treats for tampering.
Be Alert – While driving or participating in activities like Trick-or-Treating.
See and Be Seen – Use reflective tape and flashlights.
Keep Pets Safe – Bring them indoors with I.D. collar and current license tags.
Give Only Commercially Wrapped Treats – And consider giving healthier or non-food items.
Sacramento City Unified School District has also developed some guidelines to help schools, students, and their families celebrate.
Costume Guidelines
Make sure your costume is appropriate for the school environment.
Masks that cover a student's face are never appropriate to wear during school hours. Please do not wear a mask during the school day.
Costumes or props that suggest, or depict violence, are also inappropriate, and, in some cases, can lead to disciplinary action if they violate school district policies.
Food Selection
The District strongly recommends all students and adults be responsible about their food and snack choices. While there is a lot of candy and sugary treats being distributed in the community this time of year, please be aware of the health risks to children associated with too much sugar consumption.
The American Heart Association recommends kids have less than 6 teaspoons of sugar a day. The District also has a Wellness Policy that limits the amount of sugar that is allowed on campus during the school day. The policy is in line with federal laws and does not allow for the distribution or sales of cupcakes, cookies, chips, candy, or any other such foods during the school day. Click here to read our wellness policy.
You can also watch this video to get some additional tips.
For more information, please visit the Sacramento County COVID-19 Halloween Guidance at SacCounty.net/COVID-19.
_________________________________________________________________
Sabemos que muchos miembros de nuestra comunidad celebran las fiestas del otoño. Con eso en mente, le pedimos a nuestras familias que se mantengan seguros y tomen medidas de precaución para reducir la propagación del COVID-19.
Aquí están algunas recomendaciones del Departamento de Salud Pública del Condado de Sacramento:
Use una cubierta facial. ¡Hágalo divertido! Puede decorar la máscara de su hijo/a.
Mantenga la distancia física cuando participle en actividades de temporada. Asegúrese de mantener una distancia física de 6 pies de los demás y acompañe solo a los miembros de su hogar.
Lávese las manos con frecuencia o use un desinfectante para manos. Asegúrese de esperar hasta que sus manos estén limpias antes de abrir y comer sus caramelos.
Si participa en actividades como pedir dulces, planifique con anticipación. Coloque una mesa afuera para repartir dulces usando utensilios o pinzas para dulces; haga bolsas de golosinas y cuélguelas de serpentinas afuera, o coloque un tazón de dulces y una botella de desinfectante de manos al final del camino de entrada.
Celebre de manera creativa. Organice una fiesta virtual de película con miembros de su hogar, ya sea en casa o en un autocinema.
Evite lo Siguiente:
Si participa en actividades de temporada. No permita que los visitantes se acerquen a su puerta para darles dulces.
No se permiten reuniones con personas fuera de su hogar en el Condado de Sacramento mientras el estado haya designado al Condado en un nivel de riesgo restrictivo.
Si ignora esto, como mínimo, mantenga las reuniones con pocas personas, al aire libre, use cubiertas faciales y solo con aquellos que están en su "burbuja regular".
Como siempre, siga las precauciones habituales:
Inspeccione - Todas las golosinas para detectar alteraciones.
Manténgase alerta - Mientras conduce o sale a pedir dulces.
Mire y manténgase visible - Use cinta reflectante y linternas.
Mantenga seguras a las mascotas - Llévelas adentro con un collar con identificación y carnet de licencia actualizado.
Dé solo golosinas envueltas comercialmente - Y considere la posibilidad de ofrecer algo más saludables o que no sean alimentos.
El Distrito Escolar Unificado de la Ciudad de Sacramento también ha creado algunas pautas para ayudar a las escuelas, los estudiantes y sus familias a celebrar.
Reglas Para el Vestuario
Asegúrese de que su disfraz sea apropiado para el ambiente escolar.
Las máscaras que cubren la cara del estudiante nunca son apropiadas para usar durante el horario escolar. Por favor, no use una máscara durante el día escolar.
Los disfraces o accesorios que sugieran o representen violencia también son inapropiados y, en algunos casos, pueden dar lugar a medidas disciplinarias si violan las políticas del distrito escolar.
Selección de Alimentos
El Distrito recomienda insistentemente que todos los estudiantes y adultos sean responsables sobre sus opciones de alimentos y bocadillos. Aunque se distribuyen muchos dulces y golosinas azucaradas en la comunidad en esta época del año, tenga en cuenta los riesgos para la salud de los niños asociados con el consumo excesivo de azúcar.
La Asociación Estadounidense del Corazón recomienda que los niños ingieran menos de 6 cucharaditas de azúcar al día. El Distrito también tiene una Política del Bienestar que limita la cantidad de azúcar permitida en la escuela durante el día escolar. La política está alineada con las leyes federales y no permite la distribución o venta de pastelillos, galletas, papas fritas y chips, dulces o cualquier otro alimento similar durante el día escolar. Haga clic aquí para ver nuestra política del bienestar.
Usted también puede ver este video para obtener ideas adicionales.
Para obtener más información, por favor visite la Orientación de Halloween por COVID-19 del Condado de Sacramento en el SacCounty.net/COVID-19.