Board Vote on COVID Masking Guidelines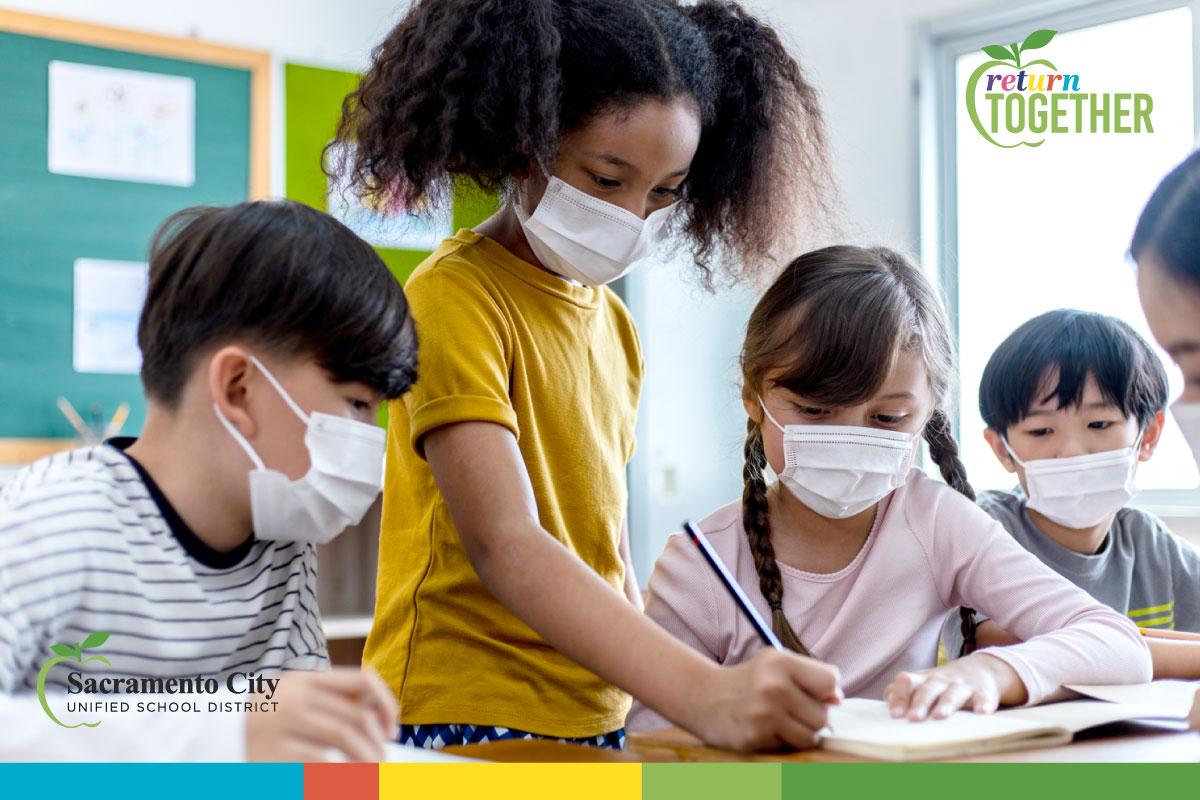 Dear Sacramento City Unified School District families,
In a special Board of Education meeting last night (Tuesday, March 8), District staff presented a recommendation for lifting SCUSD's masking requirement. You may view the meeting powerpoint presentation here. The Board voted to maintain our current mask requirement until, at the earliest, after Spring Break (Monday, April 18).
MOVING TO A MASKING RECOMMENDATION
Once the Centers for Diseases Control (CDC) lists Sacramento County in the "low" category, which factors in new COVID-19 hospitalizations, in-patient bed utilization and case rates, and Sacramento County remains in the low category for four consecutive weeks, masking will be moved to a strong recommendation but not required.
As the CDC releases county ratings weekly on Thursdays, the soonest we could align with California Department of Public Health (CDPH) to move to masking recommendation, based on current projections, would be April 18. Until further notice, masking is required for all staff, students and visitors while we monitor our County's category rating. When we have held in the low category for four weeks, we will make an official announcement that masking will be optional.
TRANSITIONING EMOTIONAL SUPPORT
We know that our community may feel polarized about masking, and many individuals also have mixed feelings about masking, so we are working collaboratively to provide trauma-sensitive social emotional learning activities for staff and students while we navigate this transition. SCUSD is also leveraging additional COVID-19 funding to expand social-emotional and physical health supports by expanding student support staff, school social workers, school counselors, school psychologists and school nurses.
CONTINUED MITIGATION MEASURES
We'll continue to follow the data, and updates on guidance from CDC, CDPH and Sacramento County Public Health (SCPH), and must be prepared to resume the masking requirement if we move back into the "high" category. We'll also consider returning to required masking if we move into the "medium" category and global, national or local trends are a concern.
Mitigation measures and data collection will continue in our schools following this transition.
A CULTURE OF RESPECT
The need for masking may come and go, like the need for a jacket in winter. Change can be hard for all of us and we may experience conflicting feelings about the easing of restrictions. It is crucial to talk to your student about respecting others' choices when it comes to masking and other mitigation measures and staff will be encouraged to reinforce the importance of mutual respect.
Sacramento is a wonderfully diverse community and one of our strengths is our many views and perspectives. We ask our community to respect and support differing views and choices as we navigate this next phase of the pandemic. SCUSD has been a leader by following public health guidance in its decision-making regarding COVID-19, and not by following public sentiment. We will continue to prioritize safety and monitor science as we approach the lifting of restrictions.
STUDENT & STAFF VACCINATION OR TESTING REQUIREMENT UPDATE
At the Special Board Meeting, the Board also voted to review the enforcement of the District's student vaccination requirement after the 2021-22 school year in June. 93.82% of students have already met SCUSD's requirement to vaccinate or agree to routine COVID testing. The district does not have staffing capacity to enroll the remaining 2,330 students that have not been vaccinated or agreed to routine COVID-19 testing into independent study.
As of March 8, over 99% of district staff members have met the District's vaccination requirement for staff by submitting their vaccination status or an approved exemption. SCUSD remains hopeful that 100% of employees will meet this requirement before March 11 when employees that have not submitted their vaccination status or approved exemption will be drafted letters that they will be placed on unpaid leave starting March 14. Leading up to this date, district staff will continue to reach out to the remaining 36 employees that have not yet met the district's vaccination requirement for staff.