Board of Education recognizes nationally-renowned student pianist Parker Van Ostrand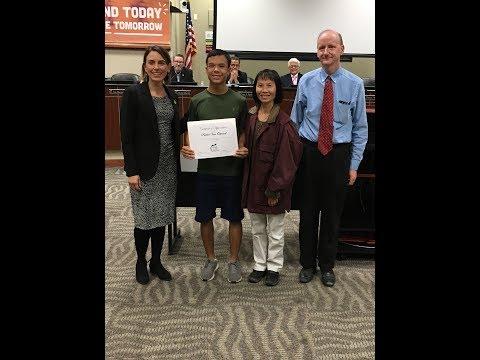 On Thursday, October 3, 2019 the Board of Education gave special recognition to McClatchy High School 9th grader Parker Van Ostrand. Parker is a nationally-renowned pianist who began studying piano at the age of four. He has already achieved many accomplishments, including performing at Carnegie Hall at the age of five after winning gold in the American Association For Development of the Gifted and Talented (AADGT) Competition. Since then he has returned to Carnegie Hall twice and has performed in numerous recitals throughout the United States, Singapore, and Japan.
As a concerto competition winner, Parker performed with the Merced Symphony, Central Valley Youth Symphony, and California Youth Symphony. He was invited to perform with the Parnassus Symphony as a guest soloist in 2017. His recent accomplishments include winning first place at the 2017 MTAC State Final Concerto Competition, Pacific Musical Society Competition, US New Star Etude Competition, and 2018 Central Valley Youth Symphony Concerto Competition. He was a finalist at the Mondavi Young Artist Competition in 2016 and 2017. He currently studies with Ms. Linda Nakagawa and Dr. Natsuki Fukasawa.
"Parker is a young man of many, many talents," said Board Member Lisa Murawski in recognizing Parker at the Board meeting.
In addition to his piano skills, Parker is a well-rounded student. He studies in McClatchy's Humanities and International Studies Program (HISP), while competing as a cross-country athlete for CKM. He also loves painting and is learning Japanese. One is Parker's goals is to one day run in the Boston Marathon.
We are very proud to recognize Parker Van Ostrand for all his many accomplishments and wish him all the best as he continues his academic career at McClatchy High School!