Back-to-School Update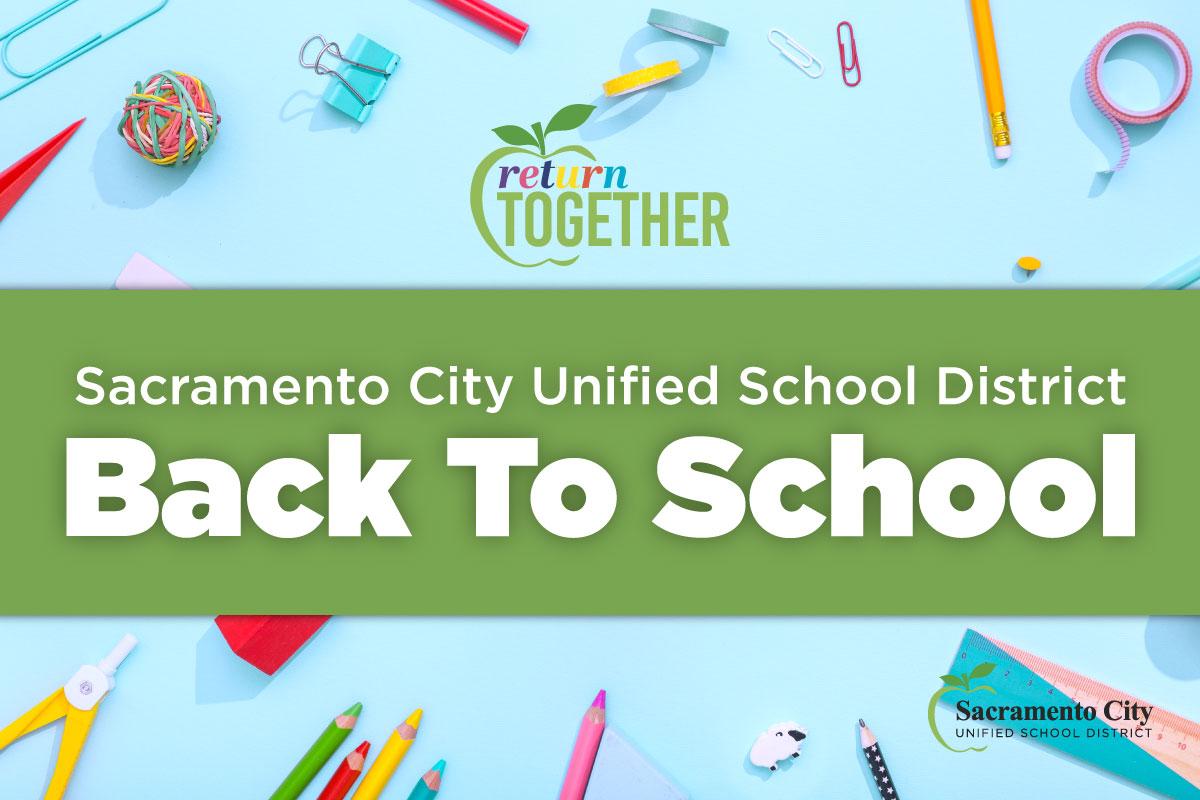 Dear Sacramento City Unified Families:
This will be our last "Back-to-School Update" as our first full week of the school year for the majority of our schools is officially in the books. Over the past week, roughly 39,000 students attended class at our 75 campuses throughout Sacramento City Unified. After more than 18 months of learning interrupted by the pandemic, we are thankful to see so many of our students in person once again.
Health and Safety
We thank all of our families and students who have followed health and safety requirements, including wearing a mask both indoors and outdoors, staying home when sick, getting tested, getting vaccinated if eligible, and practicing physical distancing when possible. Please continue to follow these layered health and safety practices to protect the health of students and staff in our district.
Testing is Available at All School Sites
Students and staff may request a COVID test at the Care Room at each school site, or come to the testing center at Serna Center each weekday from 12:30-3:00 p.m. We are proud that Sacramento City Unified provides testing throughout the district, making it easy for students and staff to access testing. To be tested, complete the preregistration and provide consent here. Select your school site or district location when completing the form. Completing the preregistration form allows your student to be eligible for testing for the whole year! You only need to complete the form one time to access COVID testing at your school site at any time throughout the school year. We encourage students to get tested regularly. Please know that completing the form is not making an appointment, but instead gives our Care Room health aides and surveillance testing teams the necessary information and consent to provide the test when you are ready. Students and staff can inform their teacher or office staff that they would like the test in the Care Room during the school day, and the health aide will provide one if the preregistration has been provided. Learn more about Sac City Unified's testing program at www.scusd.edu/COVID-19-testing.
The district's extensive testing program has allowed our district to be more responsive when a positive COVID-19 case is identified. Over this last week, our district worked with Sacramento County Public Health to provide required testing to hundreds of students and staff on the campus of New Joseph Bonnheim after a cluster of 24 community-spread cases were identified on the site. Because Sac City Unified had the rapid response testing and staff ready to deploy, we were able to keep our kids in classes.
Sac City Unified is also partnering with the City of Sacramento and community organizations to offer vaccinations on campus. The district also continues to offer vaccinations at the Serna Center and school sites on a regular basis. This week, free pizza was provided for families attending the vaccination event. Learn more at www.scusd.edu/vaccinations.
Independent Study Program
This week we also continued working toward implementing our Independent Study Program which is specified by a new law that the Legislature passed over the summer. Independent study is the option that the state now requires districts to offer for students that are not returning to campus for in-person instruction. Unfortunately, the kick off of Sac City Unified's Independent Study Program was delayed by a number of issues, including staffing challenges, that the District is working hard to address. We understand that this has caused frustration for many families, and we sincerely apologize. Students should have received information from their home school site. If a student has not received these materials, they may pick materials up at Capital City. More information about Independent Study can be found at learn.scusd.edu/independent-study. Again, we apologize for any frustration or uncertainty due to the delay in communication and/or assignments provided to your students. Please know that we are working hard to address all of these issues.