Back to School Update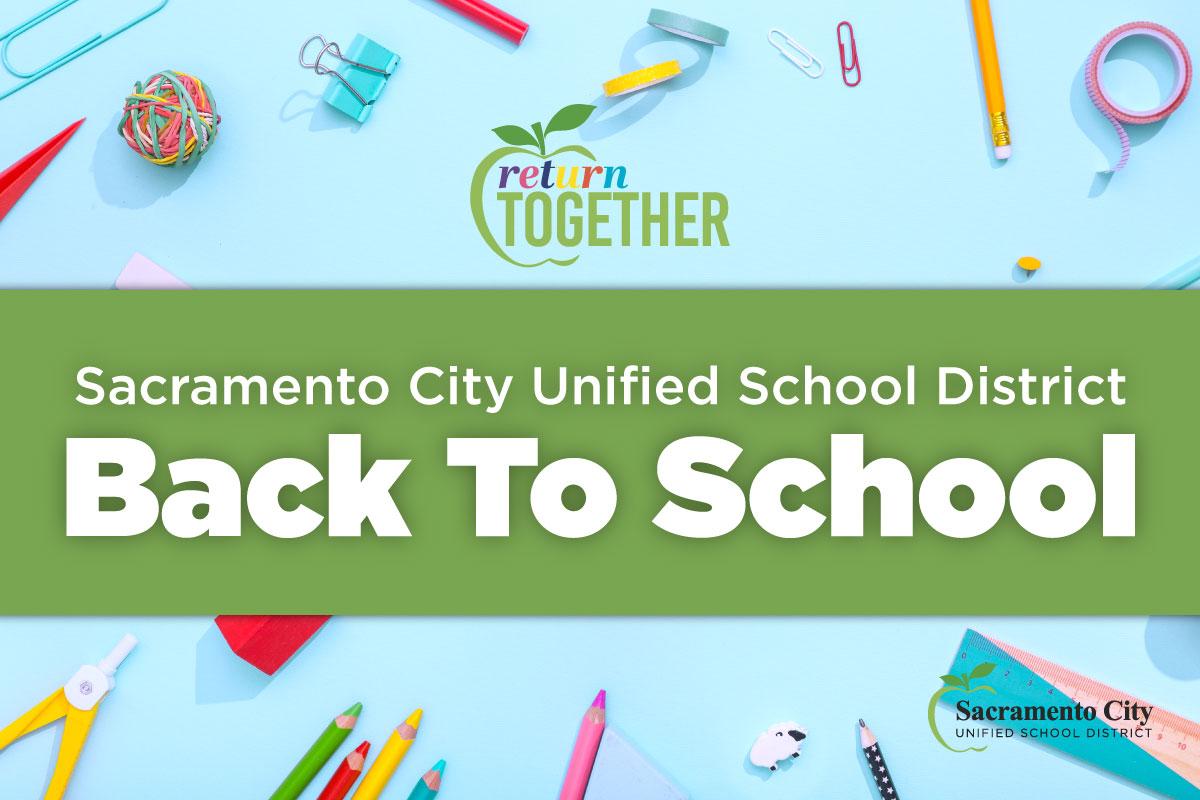 Dear Sacramento City Unified Families:
On September 2, 2021, less than one week from today, SCUSD will open for its first day of full in-person school in over 18 months for our 40,000 students. District staff have been working hard to prepare for our reopening by following our district's Return Together plan, and are excited about welcoming students back to campus next week.
Like all districts in California, Sac City Unified is no longer permitted to offer distance learning for all of our students. Our district will offer Independent Study for those students who request it, consistent with the state's new independent study law, AB 130. Details on the independent study program option can be found at learn.scusd.edu/independent-study.
Our district is opening under the same parameters as other districts in our region and across the state. We are following requirements and guidance issued by the California Department of Public Health (CDPH) and the Sacramento County Department of Public Health, which has deemed that it is safe for students and staff to return, and that in-person instruction is important for students' academic, social and emotional growth and mental health.
Health and Safety Protections at our Schools
We have strong health and safety protocols in place and have made numerous site improvements to prepare for our students to return to in-person learning. Among other protections, our students and staff will be required to wear masks indoors and outdoors, COVID testing will be available at all school sites, and vaccinations are available for everyone who is eligible. Teachers and staff are required to show proof of vaccination or be tested weekly.
Statewide, transmission of COVID-19 between students and staff at schools remains less common due to strong and layered mitigation practices under CDPH requirements and guidance, which have also been implemented at all SCUSD school sites. While our robust testing program is expected to identify some additional positive cases, the COVID-19 positivity rate in Sac City Unified remains lower than that of our surrounding county.
Our principals, teachers and school staff look forward to seeing our students back at school on September 2. We have been busy preparing for our first day by scheduling virtual back-to-school meetings, passing out school supplies and information, and getting our classrooms ready for new and returning students. You should already have received communications from your school site and additional information can be found at learn.scusd.edu. For our families who expressed interest in our Independent Study Program, we will continue to send additional information separately and will host a community meeting next week.
We're excited and ready for the first day of school on September 2!
Sign up for Special Updates
As we begin a new school year, we want to remind our community that there are many ways to engage with and learn about our district. For example, please see this Negotiations Update with details about our recent negotiations with one of our labor partners, the Sacramento City Teachers Association (SCTA). These updates are shared separately from our regular updates. Please complete this form if you are interested in receiving various updates in addition to traditional SCUSD information. Please share with others that might also be interested.