Special Board of Education Meeting
Serna Center Community Rooms
6:30 p.m. Open Session
Agenda
2.0 CONSENT AGENDA
2.1 Items Subject or Not Subject to Closed Session:
2.1a Approve Grants, Entitlements and Other Income Agreements, Ratification of Other Agreements, Approval of Bid Awards, Approval of Declared Surplus Materials and Equipment, Change Notices and Notices of Completion (Gerardo Castillo, CPA)
2.1b Approve Personnel Transactions 6/28/2017 (Cancy McArn)
2.1c Special Education Services: 2017-2018 Annual Service and Budget Plan (Dr. Iris Taylor and Becky Bryant)
2.1d Approve Delegation to Superintendent to Enter Into a Credit Recovery Program or Service Contract (Nathaniel Browning)
2.1e Revision to Board Policy 3290 Gifts, Grants and Bequests and Deletion of Administrative Regulations 3290 Gifts, Grants and Bequests(Gerardo Castillo, CPA)
2.1f Approve Resolution No. 2953: Resolution Regarding Board Stipends (Jay Hansen)
2.1g Approve Minutes of the June 15, 2017, Board of Education Meeting (José L. Banda)
3.0 BOARD WORKSHOP/STRATEGIC PLAN AND OTHER INITIATIVES
3.1 Adopt 2017-2020 Local Control and Accountability Plan (Elliot Lopez and Cathy Morrison)
3.2 Adopt Proposed Fiscal Year 2017-2018 Budget for All Funds (Gerardo Castillo, CPA)
Budget PowerPoint Presentation
The meeting agenda will be posted the Friday prior to the Board Meeting.
Video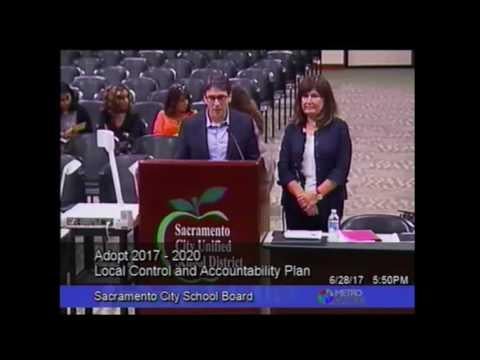 Staff need to log into YouTube with their SCUSD credentials to view.