May 2, 2013 Board Meeting
4:30 p.m. Closed Session
6:30 p.m. Open Session
AGENDA ITEMS
CONSENT AGENDA
8.1a Approve Grants, Entitlements and Other Income Agreements, Ratification of Other Agreements, Approval of Bid Awards, Approval of Declared Surplus Materials and Equipment, Change Notices and Notices of Completion
8.1b Approve Personnel Transactions
8.1c Approve Sutter Middle School Field Trip to Boston, Massachusetts, May 12 – 17, 2013
8.1d Approve Leonardo da Vinci EK-8 School Field Trip to Ashland, Oregon, May 29 – 31, 2013 to attend the Shakespeare Festival
8.1e Approve Sam Brannan Field Trip to Ashland, Oregon, May 29 – 31, 2013
8.1f Approve John Bidwell Elementary School Field Trip to Washington, D.C., June 4 – 8, 2013
8.1g Approve Sutter Field Trip to Washington D.C. June 15 – 21, 2013
8.1h Approve Board of Education Meeting Minutes for March 21, 2013
8.1i Approve Civic Permit Board Policy #1330
STRATEGIC PLAN AND OTHER INITIATIVES
10.1 School Closure Transition Update
10.2 Approve the Submission of a Credential Waiver Application to the California Commission on Teacher Credentialing for one (1) ROTC Teacher
10.3 Resolution No. 2747: Prescribing the Terms of Sale of Bonds from Authorization Granted by the Voters on November 6, 2012
10.4 Revised Board Policy 1312.3 Uniform Complaint Procedures
10.5 Contract Committee Update
BUSINESS AND FINANCIAL INFORMATION / REPORTS
11.1 Business and Financial Report:
• Purchase Order Board Report for the Period of March 15, 2013 Through April 14, 2013
• Enrollment and Attendance Report for Month 7 Ending March 22, 2013
Watch the Meeting
Contact the Board of Education Office at (916) 643-9314.
Response to Public Comment
Is it true that the district will incur a one-time cost of at least $700,000 to move portable classrooms onto the Oak Ridge campus to accommodate students from Fruit Ridge? Also, is it true that Christian Brothers High School won't be allowed to use the Oak Ridge fields in the fall?
Response: Both of these rumors are false. Oak Ridge has room for the students it will receive from Fruit Ridge. No portables need to be moved to the Oak Ridge site. In addition, Christian Brothers will continue to use the fields, as the two schools have a positive working relationship that will not be altered when Oak Ridge adds more students to its rosters.
The March 21 recommended budget reductions for 2013-14 included the reduction of one cabinet position for a cost savings of $170,000. Based on the July 1, 2012 organization chart, what position will be reduced?
Response: At the March 21 Board meeting, staff presented the second interim budget report which included a projected deficit and initial recommendations to balance our budget. One of the recommended reductions was the elimination of one cabinet position at approximately $170,000. Currently the cabinet structure is in the process of re-organization to not only account for that reduction, but also to streamline the work to be more efficient in the supports of schools. Once this plan is complete, it will be shared publicly.
Given the improved outlook for school funding, what will be the process for reinstating proposed cuts?
Response: It does appear that the state's financial picture – and thus, funding for schools – is improving. We are grateful for this. However, please keep in mind that, while revenues are projected to increase in the coming years, so are our expenses – the cost of health benefits for our employees chief among them. If and when resources are available to reinstate programs and/or personnel that have been cut over the past decade, we will be looking to invest in areas that will make the largest impact on our schools and teaching and learning in our classrooms. Unfortunately, it will take a long time to make us whole after a decade of decimating cuts.
How much has the school closure process cost our district?
Response: As of May 2, 2013, we have spent $43,118.41 out of the general fund. The net anticipated savings projected as a result of school closures included $108,000 in related expenditures. As such, these expenses were already accounted for.
What will receiving schools look like in the fall?
Response: The schools will look very similar but with greater facility utilization. Schools have been provided multiple options for beautification and renovation, including new paint, fresh landscaping, playground improvements, lighting and security improvement or fencing improvements. Ethel I. Baker will receive one additional portable. Earl Warren will receive two additional portables.
What will the new school boundaries for receiving schools look like in terms of gang territories?
Response: SCUSD's Safe Schools Office met with Sacramento Police Department gang enforcement detectives to discuss issues surrounding closing schools and gangs. After looking at neighborhood maps, it was determined that no gang boundaries are being crossed due to closing schools and transitioning students.
How will walking routes be presented?
Response: Walking routes will be printed on paper with arrows indicating the preferred route and distributed to students at closing schools once they are completed. Street names and numbers will also be indicated.
What is the cost benefit for each closed site, including projected lost ADA?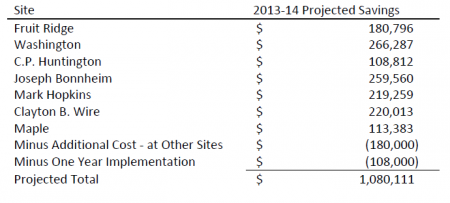 What happens if a family does not win an enrollment spot through the after-school lottery?
Response: Families will be placed on a waiting list. Every effort is being made to increase capacity at receiving sites. If additional funds/slots are available families will be contacted in waiting list order. Youth Development Services is also compiling a list of community programs and child care options and will share these resources with families/sites. Families that do not register/show up will be replaced with families from the waiting lists.
What happens when a younger sibling wants to enroll in an older sibling's choice school?
Response: All siblings were accommodated if it was referenced on their application that the student had a sibling.
Why is the book and supply budget increasing if schools need to be closed for fiscal reasons?
Response: The amount shown within our budget for supplies and materials at various times during the year fluctuates significantly due to limitations within our accounting system at this time and the requirements associated with tracking "restricted" versus "unrestricted funds." The total supply budget may swell at various times during the year when we receive new "restricted" funds. The total of "restricted" funds are often allocated to the supplies object and remain there until the school or program administrator works with their school site council to move these "restricted" funds from supplies to other objects within their budget. Most often these funds move to support the salaries and benefits of the individuals delivering the services required by the grantor of the "restricted" funds.
We are working with our accounting software vendor and developing new business processes to enable a more accurate representation of the receipt of these funds awaiting proper allocation. The difficulty arises in developing a methodology to accomplish this while maintaining strict compliance with State budgeting and accounting requirements.
Why are SCUSD reserves above 2%, the same amount (about) as claimed closure savings?
Response: The designation of reserves is now governed by pronouncement 54 from the Governmental Accounting Standards Board (GASB) and State statutes. School district reserves must follow the requirements prescribed by both of these governing bodies. Under State statute we are required to have 2% of projected expenditures reserved for economic uncertainties. Therefore, as our expenditures increase each year, reflecting the increasing cost of employee compensation, utilities, services, supplies, and equipment, our reserve is legally mandated to increase accordingly.
In addition to the 2% economic uncertainly reserve (estimated to be $8,979,822), the State mandated component of ending fund balance requires districts to disclose and budget for other components of ending fund balance such as the value of the inventory in our warehouse, the value of revolving cash used for operations, a reserve for items on order but not received (encumbrances), and funds legally designated for specific purposes but not expended within the current fiscal year (unexpended "restricted" funds), to name a few.
Once all of the legally required reserves have been accounted for the district is strongly encouraged by both the Sacramento County Office of Education (SCOE) and the Government Finance Officers Association (GFOA) to set aside additional reserves to ensure continuity of operations and to enable smoothing of revenue ups and downs. The size of these reserves is once again measured against our anticipated expenditures. SCOE would like to see at a minimum a reserve of 5% or approximately $22.5 million. GFOA recommends a reserve equal to twice the amount of a government's highest month of expenditures. For our district that is approximately $77 million or 17.14%. We are projecting an ending fund balance with approximately a 3% reserve. As you can see from the district's recent need for cash flow borrowing had the district had a reserve equal to the level recommended by GFOA such a borrowing would not have been necessary and the cost of obtaining those funds would have been avoided. However, governmental units are not banks and holding on to such large amounts of cash when the needs are so great is a questionable public policy. With the recent economic uncertainties many states are recommending that governmental units reserve a more reasonable sum of approximately 10% of expected expenditures or approximately $44.9 million for our district.
While our General Obligation Bonds are backed by ad valorem (property) taxes and their repayment is not dependent on General Fund revenue the bond rating agencies look to the stability of the finances of a governmental unit and are now seeking at a very minimum a 5% fund balance, they would prefer at a minimum 7.5% to 10%. We have just completed an annual compliance review of our bond rating and expect to hear within the month their comments related to our predicted 3% ending fund balance. Should they disapprove of this level of reserve it is possible that we could see a reduction in our bond rating.
In summation, the size of the reserve has no relationship to the ongoing savings that will be realized over multiple years through ongoing expenditure reductions, only that there is a very significant need to reduce expenditures to be in line with anticipated revenues.
Why do C.B. Wire students who will attend a choice school have to walk to school?
Response: Students from C.B. Wire will be provided Safe Walking Routes to Pacific, Ethel I. Baker or Elder Creek, dependent upon their residence. If, through Open Enrollment, C.B. Wire families choose to attend another school, the families must provide transportation to the chosen site.
What is the percentage decrease in elementary schools from 2001 to what the district is projecting for 2013-14?
Response: The drop in elementary school enrollment from 2001 to our projected enrollment for 2013-14 is 27.3%.
What is the percentage decrease in elementary K-6 enrollment for the same period?
Response: For the same period as in the question above: 27.2%
What are the sending and receiving sites for SDC?
School Closures – Special Day Class Programs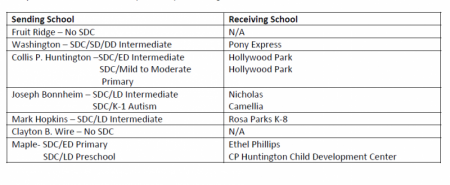 What is the cost of yearly transportation from each site and in total?
Response: At this time, Transportation Services is forecasting the need for 11 routes to service students from closing schools: Nine additional routes and two existing routes, including approximating kindergarten routes (which will be known after kinder enrollment) and special bell schedules for non-staggered school sites.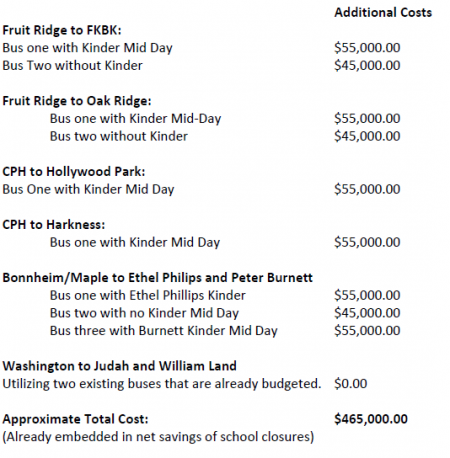 What is the long term maintenance and replacement cost of transportation?
Response: Maintenance costs for buses vary depending on year, make and model. Average maintenance costs for the fleet is approximately $5,300 per bus. The projected total fleet maintenance cost for the 2012-13 school year is $689,000. No additional buses are necessary to accommodate transportation related to school closures.
The department has a plan to replace buses but funding has been unavailable to fund an appropriate replacement cycle. Replacement of buses is done strictly based on need. The department continues to research alternative ways to fund replacement buses through, private, state and federal grants. Unfortunately, these grants are becoming extremely rare.
Depending on the size, fuel type, after market additions such as two-way radios, cameras and the configuration of each school bus, the average cost for a large 80-passenger Type 1 school bus is approximately $160,000.
The life expectancy of a large transit bus driven within our operating conditions is about 25 years. If you were able to capitalize the cost of the bus over its useful life the annual cost would be approximately $6,400. Unfortunately, we are unable to obtain a lease-to-purchase over the usable life of the bus. If we were to attempt to lease-purchase a bus, assuming we could obtain a lease with just a 5% cost of funds, our annual payments for 10 years would be approximately $20,000 per year and our interest cost over the life of the lease would add approximately $50,000 to the cost of the bus.
What does the "Megan's Law" scatter map look like for walking routes?
Response: Information on Megan's law can be found at the State of California's website.
What are the crime statistics for walking routes?
Response: Crime statistics for the city and county are available at the Sacramento Police Department and Sacramento Sheriff's Department.
What is the cost of moving portables for each receiving site and total?
Response: We have not received bids from contractors. We anticipate receiving information in approximately two weeks. Staff will review and prepare bid awards for the next available Board meeting.
What is the cost of renovations and other changes for each site?
Response: We have not received all of the quotes and bids to supply this information at this time.
What transition phases for closing/receiving schools? What are the target dates for entering these phases? Are closing/receiving schools on track?
Response: SCUSD has identified four transition phases:
Phase 1 is Student Placement. This was completed once Open Enrollment placements were solidified (April 30, 2013). However, monitoring of student placements will continue through fall.
Phase 2 is Planning. Planning will be complete by June 1.
Phase 3 is Blending Communities and Addressing the Social/Emotional Climate. Blending activities and movement of materials and equipment will be completed by August.
Phase 4 is Building and Sustaining School Culture. This phase will be ongoing throughout the 2013-14 school year.
Most schools are currently focusing on Phase 3 which encompasses the blending activities that will be held this spring. As such, all schools are currently on track. It should be noted that elements of the phases overlap and are continuous.
Will children be issued SCUSD identification cards for transportation on buses?
Response: Currently, ID cards are not issued for transportation on our buses. This process is usually associated with a "Pay for Service" and is usually used within school districts that charge a fee for home to school transportation. SCUSD does not charge a fee for this service. However, we will investigate the value and costs of issuing bus IDs.
How quickly will parents be notified if their child misses the bus to school?
Response: The district will work with principals to develop a consistent communication practice to ensure parents are notified, in a timely manner, should a student fail to get on the bus.
Will there be additional staffing for yard duty at receiving schools?
Response: Additional staffing will be allocated for receiving schools based on their enrollment numbers and the staffing formula.
What was the substance of enrollment communications?
Response: Confirmation calls were made by school principals, office managers and parent liaisons. These individuals know their families well and were ready to assist parents with answers to questions or needs the parents expressed. Below is text from a letter used at Washington:
Dear Parents/Guardians:
As you are aware, your student's school, Washington Elementary School, will be closing at the end of the 2012-2013 school year. Every student in the school was assigned a new home school. The new assignment was based upon your current residence. For the 2013-2014 school year, your student has been assigned to
Theodore Judah Elementary School
3919 McKinley Blvd.
Sacramento, CA 95819
(916) 277-6364
To ensure the District's enrollment information is correct, please complete the below form and return to your child's teacher by May 1, 2013. If you have questions regarding this letter, please call your school office at 264-4160.
If you submitted an application for another school during the open enrollment period, please indicate in the space provided below.
Please return the form below to your student's teacher by May 1, 2013.
- – - – - – - – - – - – - – - – - – - – - – - – - – - – - – - – - – - – - – - – - – - – - – - – -
Sacramento City Unified School District
My student has been assigned to Theodore Judah Elementary School.
Student's Name
Current Grade
Parent/Guardian's Signature
Phone number
Check one:
My student will attend Theodore Judah Elementary School in the 2013-2014 school year.
I have open enrolled my student to _______________________ Elementary School.
Other
Thank you!
Can parents dispute stops and locations?
Response: Families and other community members may dispute a bus stop if students are creating a disturbance at the bus stop or vandalizing property. Requests for additional stops closer to homes are usually a convenience request and are reviewed upon request. If the review determines that an alternative or additional stop is necessary then it would be submitted to be approved through the district and the California Highway Patrol.
Will there be additional supervision for students riding the bus?
Response: We do not anticipate having additional staff but will consider all options.
What are the police and security plans for afterschool program?
Response: Safety is an important part of all after school programs. The Youth Development office works closely with the district's Safety Manager, Tracey Lopez, and Sacramento Police Department's Lt. Lisa Hinz to ensure all After School Program Managers are trained on district safety protocols and procedures. Program Managers are also are familiar with emergency drills and work closely with site level administration and custodial staff regarding their sites' evacuation plan, lock down drill, utility shut off, etc. They have a clear Communication Protocol and guidelines in the event of an emergency, including their first call being to 911. The Communication Protocol also includes connecting with the Safety Manager and Youth Engagement Coordinator; these staff members are on-call at all times.