March 7, 2013 Board Meeting
4:30 p.m. Closed Session
6:30 p.m. Open Session
AGENDA ITEMS
CONSENT AGENDA
8.1a Approve Grants, Entitlements and Other Income Agreements, Ratification of Other Agreements, Approval of Bid Awards, Approval of Declared Surplus Materials and Equipment, Change Notices and Notices of Completion
8.1b Approve Personnel Transactions
8.1c Approve Staff Recommendation for Expulsion #7 – 2012/2013
8.1d Approve Sutter Middle School Field Trip to Ashland, Oregon, March 13 – 15, 2013 to attend the Shakespeare Festival
8.1e Approve Sutter Middle School Field Trip to Ashland, Oregon, March 18 – 20, 2013 to attend the Shakespeare Festival
8.1f Approve Sutter Middle School Field Trip to Ashland, Oregon, March 20 – 22, 2013 to attend the Shakespeare Festival
8.1g Approve John F. Kennedy Field Trip to Washington D.C. May 4 – 10, 2013
8.1h Approve Charter School Operational and Special Education MOU for Sol Aureus College Preparatory (S.A.C. Prep)
8.1i Approve Board of Education Meeting Minutes for February 7, 2013
8.1j Approve Appointment of Board Member Christina Pritchett to The Parent/Teacher Home Visit Project
STRATEGIC PLAN AND OTHER INITIATIVES
9.1 2013-14 Budget Recommendations and Reductions
9.2 Superintendent Recommendations to Keep Tahoe and Mark Twain Elementary Schools Open and to Revise Fruit Ridge Closure Student Transfer Plan (Resolution No. 2739)
9.3 School Closure Transition Update
9.4 Ad Hoc Committee to Assist Board Appointment of 7-11 Members and Repurposing of Facilities Report
9.5 Resolution No. 2732: Authorizing the Issuance and Sale of the 2012- 13 Tax and Revenue Anticipation Notes (TRANS)
9.6 Sacramento City Unified School District's Initial
Proposals/Interests for Contract Negotiations Sacramento Teachers Association (SCTA) – 2013-14 Reopeners
9.7 Sacramento City Unified School District's Initial Proposals/Interests for Contract Negotiations with Service Employees International Union (SEIU) – 2013-14 Reopeners
BUSINESS AND FINANCIAL INFORMATION / REPORTS
11.1 Business and Financial Report:
• Purchase Order Board Report for the Period of January 15, 2013
Through February 14, 2013
• Enrollment and Attendance Report for Month 5 Ending
January 25, 2013
Watch the Meeting
Cable Viewing
This meeting of the Sacramento City School Board is being videotaped in its entirety and will be cablecast without interruption on Metro Cable 14, the government affairs channel on the Comcast and SureWest Cable Systems.
Video Archive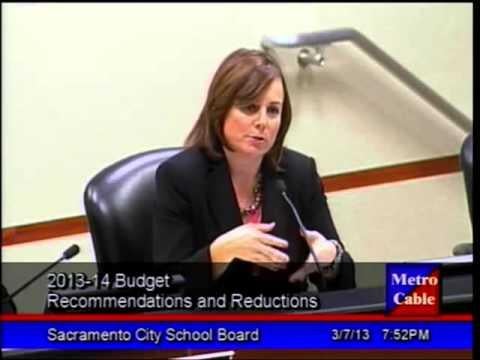 Response to Public Comment
Parent: I gave the district three questions about school closures. Why haven't they been answered?
Response: District staff attempt to answer questions from the public in as timely a manner as possible. This parent's questions have now been answered via an email from the district.