March 6, 2014 Board Meeting
4:30 p.m. Closed Session
6:30 p.m. Open Session
Agenda Items
PUBLIC HEARING
8.1 Public Hearing on Charter School Renewal Petition: Language Academy of Sacramento
CONSENT AGENDA
9.1a Approve Grants, Entitlements and Other Income Agreements, Ratification of Other Agreements, Approval of Bid Awards, Approval of Declared Surplus Materials and Equipment, Change Notices and Notices of Completion
9.1b Approve Personnel Transactions
9.1c Approve Albert Einstein Middle School Field Trip to Washington D.C. April 12 – 16, 2014
9.1d Approve Sutter Middle School Field Trip to Ashland, Oregon
March 19 – 21, 2014
9.1e Approve John F. Kennedy High School Field Trip to Ashland, Oregon March 7-9, 2014
9.1f Approve Appointment of Vice President Darrell Woo to the CSBA Delegate Assembly
9.1g Approve Election of Delegates to the CSBA Delegate Assembly, Subregion 6-B
9.1h Approve Staff Recommendation for Expulsion #4 2013-14
9.1i Approve Resolution No. 2783 Regarding Allocation of Developer Fees After Transfer of Territory from Twin Rivers Unified School District to Sacramento City Unified School District
9.1j Approve Board of Education Meeting Minutes for January 23, 2014
9.1k Approve Board of Education Meeting Minutes for February 6, 2014
9.1l Approve Special Board of Education Meeting Minutes for
February 13, 2014
9.1m Approve Resolution No. 2784: Resolution Regarding Board Stipends
9.1n Approve Resolution No. 2778: Resolution Regarding Establishment of a School-Based Health Center at Hiram Johnson High School and Exemption From Division of State Architect (DSA) Approval
BOARD WORKSHOP/STRATEGIC PLAN AND OTHER INITIATIVES
11.1 Approve Resolution No. 2782: Recognition of the Week of the
School Administrator
11.2 7-11 Committee Recommendations Regarding 7 Closed
School Sites
11.3 Second Interim Financial Report 2013-14 (Ken Forrest)
11.4 Resolution No. 2785: Intention to Terminate Certificated
Employees Due to a Reduction of Particular Kinds of Service
11.5 Resolution No. 2786: Determination for Tie Breaking Criteria
BUSINESS AND FINANCIAL INFORMATION / REPORTS
12.1 Enrollment and Attendance Report for Month 5 Ending
January 24, 2014
Watch the Meeting
Cable Viewing
This meeting of the Sacramento City School Board is being videotaped in its entirety and will be cablecast without interruption on Metro Cable 14, the government affairs channel on the Comcast and SureWest Cable Systems.
Live Streaming
)
Response to Public Comment
Q: Will the Board research other school districts for their policies regarding teacher healthcare benefits and types of plans that are typically made available for teachers?
A: The District has already done extensive research into how our benefit plans compare with surrounding districts. We have obtained information for all districts in our geographical area and from districts statewide.
Q: Will the Board consider changing Board Policy with respect to teacher benefits to be more in alignment with other districts so that we have the funding available to directly benefit our students?
A: Both the Board of Education and the Administration have as one of our highest priorities to work with our labor organizations to work towards reducing our overall cost of benefits through the negotiations process as required by law. Changes to contracts with our labor partners must be negotiated.
Q: What is the Board doing to educate itself, parents, and current teachers on the realities of the rising healthcare benefits and impacts on the overall budget? This pyramid is about to collapse itself. The current teachers need to know that their future benefits may not be there if the pyramid collapse, just like in the City of Detroit. If we continue in this manner, the majority of our LCFF funds will all be used to pay for these benefits.
A: In line with current regulations and laws related to collective bargaining, the District is making information related to the cost of benefits available to the public online through posting all budget presentations and other supporting documentation. In addition, the District is meeting with our employee groups to specifically address this situation. Changes to contracts with our labor partners must be negotiated.
Q: How much additional money is being generated from LCFF? I would like a detained breakdown of the total students in each category, the funding amounts, their school site designations, and how much will actually be received by the schools sites that generate the money. This has not been provided at any of the public meetings or forums.
A: What is provided below is a projection. Until the LCAP has been completed and the legislature has completed their work nothing is final.
Download this document to see per school information. This chart provides the calculation and total amounts.
Q: Will the Board be looking into how Washington Unified is able to offer low class sizes (20)?
A: Using Ed Data I have provided the chart below. The class sizes are not as low as one may perceive.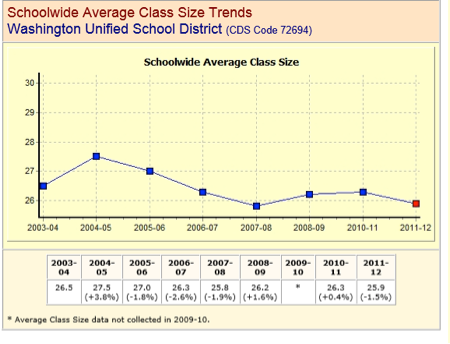 A very quick analysis points out that Washington Unified uses 18.5% of their allocated funds to pay for employee benefits. Sacramento City Unified uses 27.2%. The difference of 8.7% equates to approximately $35 million dollars that would be available to reduce class size in our District.
Q: In addition, what is the Board doing to educate itself and others about the realities of funding for special education? The state and federal funding received is inadequate to cover mandates from IDEA and districts must use general funds to provide needed services. In our district it is $25 million. Is the Board planning to research ways to increase funding at the state and local level for students with special needs?
A: The Board and the Administration are actively involved through state associations and direct contact in multiple efforts to improve funding in this area. This is an area of under-funding, currently estimated at $33 million, that is not currently on the minds of many legislators.
Q: Our teachers have a strong union to protect their self-interests. Our kids don't. What is the Board doing to educate and empower students to become self-advocates and have a voice in their education funding and programming. We have seen zero students present at the LCAP or other advisory meetings. Will the Board look into forming a student union for SCUSD?
A: SCUSD is engaging students through its Student Advisory Committee (SAC), an active group of young adults that includes representatives from every high school campus. SAC reps are learning about the LCAP process and bringing this information back to the full SAC. Those reps, in turn, are taking the information to their campuses to be discussed during Associated Student Body classes. An average of 10 students representing five high schools has been attending the LCAP Advisory Committee meetings.
SCUSD's Youth Development and Support Services staff also collected feedback from students regarding LCAP/LCFF prioritization during the monthly Youth Council Meeting in December. Fifty high school students representing nine schools participated. In addition, SCUSD has sent out the LCAP student survey to Men's Leadership Academy classes, the Independent Living Program (SCUSD foster youth) and our Sacramento Youth Leadership Program action teams. In total, almost 300 students – 286 – completed the district's LCAP survey.
In addition to the Student Advisory Council, every high school has an Associated Student Body (ASB) group or class to address student issues. As you know, students are also represented by our student Board member.
Q: The total unfunded retirement liability for California is $80 billion for 1,100 school districts. LA has a $2.3 billion unfunded liability and Sacramento has $662 million. These two districts have $3 billion of the $80 billion liability. This is a coincidence that LA and Sacramento are also the only two districts with lifetime teacher benefits…
A: In discussions of unfunded liability, there are two distinct issues: Unfunded retirement and unfunded lifetime benefits. The latest estimate of Sacramento City's unfunded liability for life time benefits is $653 million. There are numerous other Districts throughout the state that offer lifetime health benefits for employees as well. There are five in just our local area: Sacramento, Elk Grove, Twin Rivers, Davis and Natomas. This is a statewide issue.