Board of Education Meeting
Serna Center Community Rooms
4:30 p.m. Closed Session
6:00 p.m. Open Session
Agenda
1.0 OPEN SESSION / CALL TO ORDER / ROLL CALL
2.0 ANNOUNCEMENT AND PUBLIC COMMENT REGARDING ITEMS TO BE DISCUSSED IN CLOSED SESSION
3.0 CLOSED SESSION
While the Brown Act creates broad public access rights to the meetings of the Board of Education, it also recognizes the legitimate need to conduct some of its meetings outside of the public eye. Closed session meetings are specifically defined and limited in scope. They primarily involve personnel issues, pending litigation, labor negotiations, and real property matters.
3.1 Government Code 54957.6 (a) and (b) Negotiations/Collective Bargaining SCTA, SEIU, TCS, Teamsters, UPE, Non-Represented/Confidential Management
3.2 Government Code 54956.9 Conference with Legal Counsel – Anticipated Litigation:
a) Significant exposure to litigation pursuant to subdivision (d)(2) of Government Code section 54956.9 (One Potential Case)
b) Initiation of litigation pursuant to subdivision (d)(4) of Government Code section 54956.9 (One Potential Case)
3.3 Government Code 54957 – Public Employee Discipline/Dismissal/Release/Reassignment
3.4 Government Code 54957 – Public Employee Performance Evaluation:
Title: Superintendent
3.5 Education Code Section 35146 – The Board will hear staff recommendations on the following student expulsion(s):
a) Expulsion #4, 2018-19
3.6 Government Code 54956.8 – Conference with Real Property Negotiators:
Property: 2718 G Street, Sacramento, CA
Agency Negotiator: Superintendent or Designee
Negotiating Parties: SCUSD and Mogavero/Bardis
Under Negotiating: Price and Terms for Exchange
4.0 CALL BACK TO ORDER/PLEDGE OF ALLEGIANCE
4.1 Broadcast Statement (Student Member Halbo)
4.2 The Pledge of Allegiance will be led by Ethel Phillips Elementary Students.
• Presentation of Certificate by President Ryan
5.0 ANNOUNCEMENT OF ACTION TAKEN IN CLOSED SESSION
6.0 AGENDA ADOPTION
7.0 SPECIAL PRESENTATION
7.1 Ceremonial Oath of Office Given to New Board Members:
Lisa Murawski by Emelia-Rose Engel
Leticia Garcia by Reyna Garcia, Victoria McCarty and Barbara McCarty
Darrel Woo by Honorable Troy Nunley, Judge of the U.S. District Court, Eastern District of California
7.2 Celebration of Newly Elected Board Members (Jessie Ryan)
7.3 Approve Annual Organizational Meeting of the Board of Education (Jessie Ryan)
Election of Officers:
The Board Shall Elect a President, Vice President and Second Vice President
8.0 PUBLIC COMMENT Members of the public may address the Board on non-agenda items that are within the subject matter jurisdiction of the Board. Please fill out a yellow card available at the entrance. Speakers may be called in the order that requests are received, or grouped by subject area. We ask that comments are limited to two (2) minutes with no more than 15 minutes per single topic so that as many people as possible may be heard. By law, the Board is allowed to take action only on items on the agenda. The Board may, at its discretion, refer a matter to district staff or calendar the issue for future discussion.
9.0 BOARD WORKSHOP/STRATEGIC PLAN AND OTHER INITIATIVES
9.1 Receive Information from Fiscal Crisis & Management Assistance Team (FCMAT) Fiscal Health Risk Analysis Report (Dr. John Quinto)
9.2 College Application Process Update (Vincent Harris and Christina Espinosa)
10.0 CONSENT AGENDA Generally routine items are approved by one motion without discussion. The Superintendent or a Board member may request an item be pulled from the consent agenda and voted upon separately.
10.1 Items Subject or Not Subject to Closed Session:
10.1a Approve Staff Recommendation for Expulsion #4, 2018-19 (Doug Huscher and Stephan Brown)
11.0 BUSINESS AND FINANCIAL INFORMATION/REPORTS Receive Information
11.1 Monthly Suspension Report – November 2018
12.0 FUTURE BOARD MEETING DATES / LOCATIONS
January 17, 2019, 4:30 p.m. Closed Session, 6:00 p.m. Open Session,
Serna Center, 5735 47th Avenue, Community Room, Regular Workshop Meeting

February 7, 2019, 4:30 p.m. Closed Session, 6:00 p.m. Open Session,
Serna Center, 5735 47th Avenue, Community Room, Regular Workshop Meeting
13.0 ADJOURNMENT
NOTE: The Sacramento City Unified School District encourages those with disabilities to participate fully in the public meeting process. If you need a disability-related modification or accommodation, including auxiliary aids or services, to participate in the public meeting, please contact the Board of Education Office at (916) 643-9314 at least 48 hours before the scheduled Board of Education meeting so that we may make every reasonable effort to accommodate you. [Government Code § 54953.2; Americans with Disabilities Act of 1990, § 202 (42 U.S.C. §12132)] Any public records distributed to the Board of Education less than 72 hours in advance of the meeting and relating to an open session item are available for public inspection at 5735 47th Avenue at the Front Desk Counter and on the District's website at www.scusd.edu
Watch the Meeting
Cable Viewing
This meeting of the Sacramento City School Board is being videotaped in its entirety and will be cablecast without interruption on Metro Cable 14, the government affairs channel on the Comcast and SureWest Cable Systems.
Video Archive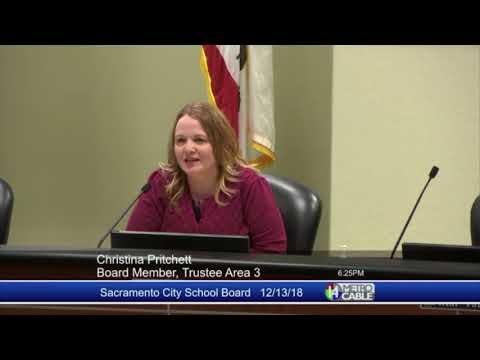 Note: If you are viewing from the SCUSD network, you must log into your
SCUSD Google Account
to view the video.