Board of Education Meeting
Serna Center Community Rooms
4:30 p.m. Closed Session
6:30 p.m. Open Session
Agenda
7.0 SPECIAL PRESENTATION
7.1 Approve Resolution No. 2958: In Recognition of Food Literacy Month, September 2017 (Jay Hansen)
9.0 BOARD WORKSHOP/STRATEGIC PLAN AND OTHER INITIATIVES
9.1 Student Achievement Presentation: Graduation (Iris Taylor and Vincent Harris)
9.2 Approve AB 1200 Disclosure of Cost and Ratification of the Tentative Agreement with Bargaining Unit, United Professional Educators (UPE) (Cancy McArn)
10.0 CONSENT AGENDA
10.1 Items Subject or Not Subject to Closed Session:
10.1a Approve Grants, Entitlements and Other Income Agreements, Ratification of Other Agreements, Approval of Bid Awards, Approval of Declared Surplus Materials and Equipment, Change Notices and Notices of Completion (Gerardo Castillo, CPA)
10.1b Approve Personnel Transactions 9/7/17 (Cancy McArn)
10.1c Approve Textbook Adoptions for Advanced Placement (AP) Social Science Classes: Psychology and US History (Dr. Iris Taylor and Kari Hanson-Smith)
10.1d Approve Alice Birney Waldorf Field Trip to Ashland, Oregon September 26 – 29, 2017 (Lisa Allen and Tu Carroz)
10.1e Approve C.K. McClatchy High School Field Trip to Dallas, Texas September 13 – 18, 2017 (Lisa Allen and Mary Hardin Young)
10.1f Approve Board Bylaw (BB) 9002: Constituent Services (Nathaniel Browning)
10.1g Approve Board Policy (BP) 1300: Civility Policy (Nathaniel Browning)
10.1h Approve Board Bylaw (BB) 9005: Governance Standards (Nathaniel Browning)
10.1i Approve Resolution No. 2957: Resolution Regarding Board Stipends(Jay Hansen)
10.1j Approve Minutes of the August 17, 2017, Board of Education Meeting (Jorge A. Aguilar)
Watch the Meeting
Cable Viewing
This meeting of the Sacramento City School Board is being videotaped in its entirety and will be cablecast without interruption on Metro Cable 14, the government affairs channel on the Comcast and SureWest Cable Systems.
Video Archive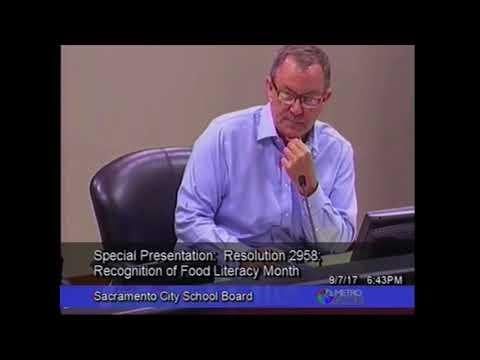 If you receive a notice that this video is restricted, please log into Google with your SCUSD email and password.